KeenSen Reverse Osmosis Membrane BW-8040FR ---- 30000 m3/d Water Plant Project Application
Project Brief
The average annual precipitation in a city of Xilinguolemeng Inner Mongolia is less than one-fourth of the national average annual precipitation which is a severe drought and water shortage area. Meanwhile, the city's main source of drinking water is groundwater where the content of fluoride, sulfate, and total hardness exceeds the national sanitary standards for drinking water. It can cause dental fluorosis, skeletal fluorosis, short stature, delayed growth of adolescents, and a series of problems endanger human health if drinking all the time. The quality of raw water for this project, please see below table 1.
Table 1. Quality Parameters of Groundwater
No.

Item

Analysis Value

Unit

No.

Item

Analysis Value

Unit

1

Chroma

15.0

/

7

Sulfate

360

mg/L

2

Turbidity

5.0

NTU

8

Total Hardness

580

mg/L

3

Smell

nil

/

9

Chloride

250

mg/L

4

pH

7.50

/

10

TDS

1300

mg/L

5

Nitrate

8.50

mg/L

11

Fluoride

1.56

mg/L

6

Manganese

0.26

mg/L

12

Total Iron

0.42

mg/L
In order to improve the quality of the city's water supply, raise the life quality of urban residents, and optimize the investment environment, it officially began to implement and transform the water purification project for the second and the new third water plant in April 2017 with a cumulative capacity of 30,000 tons per day .
Processing Diagram
In view of the high concentration TDS, total hardness, and sulfate etc. of local deep groundwater, it takes advanced "UF+RO double membrane method" pure physical deep core treatment process, supplemented by multi-media, self-cleaning filtration, precision filters and other pretreatment processes. The product water of the UF membrane system enters the RO desalination system, the RO product water is blended with the precision filter product water and then enters the finished product water pool, and is finally disinfected and sent to the pipeline network. The processing diagram is as below figure 1.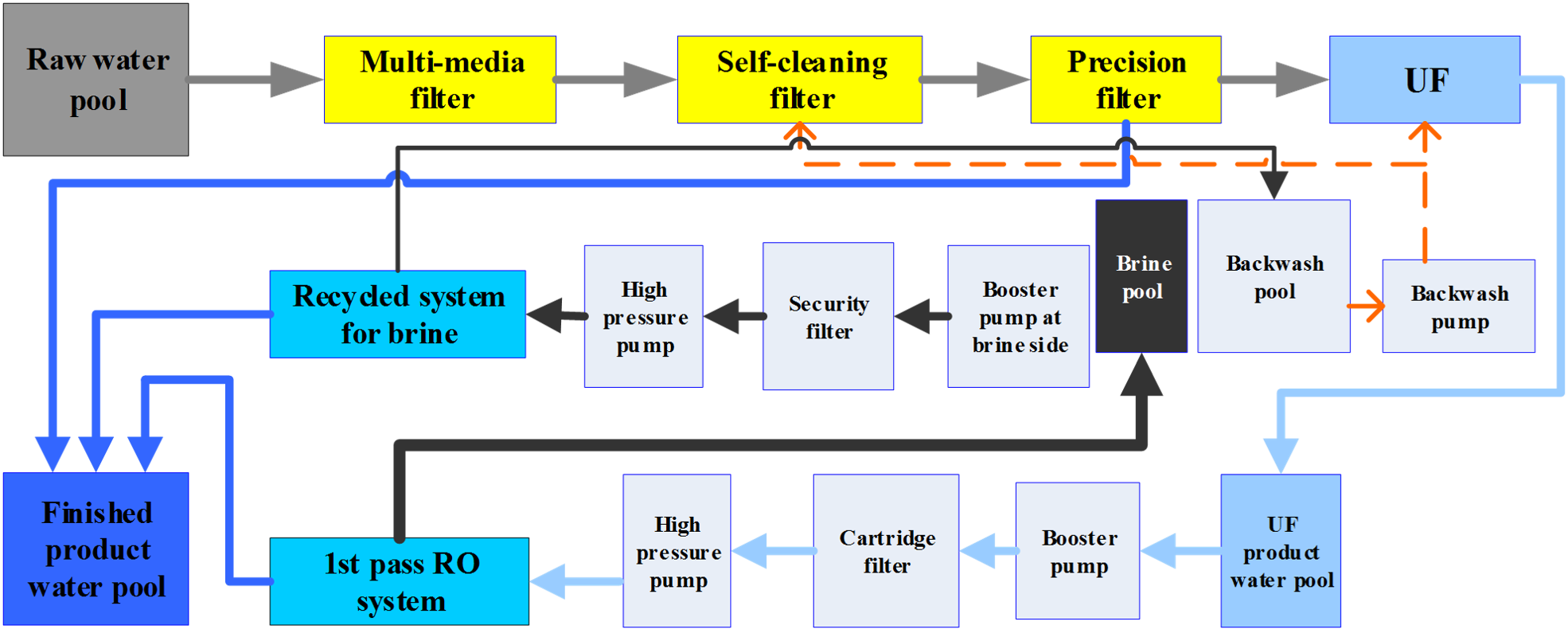 Figure 1. Project Processing Diagram
Operating Conditions
All the reverse osmosis skids of this project adopted the star product " fouling resistant reverse osmosis membrane element" of Keensen. Among them, there are 12 sets of 1st pass skids, totally 1,080pcs elements; 4 sets of 1st pass concentrated water treatment RO skids, totally 240pcs elements.
The project was successfully put into operation in October 2017. The initial rejection rate of the 1st pass RO system was >99.0%, and rejection rate of the concentrated water treatment RO system was >98.7%.
All the other indicators also met the project design requirements. After nearly 3 years of running, the rejection rate and the permeate flow rate of the membrane system have remained stable. Among them, the reverse osmosis system of 1st pass has not yet been chemically cleaned, and the cleaning frequency of the concentrated water treatment RO system is once a year. The average operating data of RO skids is shown in the Table 2.
Table 2. Average historical operating data of the 1st pass concentrated water treatment RO system
Years

Operating Pressure

(bar)

flow rate(m3/h)

Recovery rate %

TDS

(µs/cm)

Rejection rate %

skids

Remarks

Permeate water

Concentrated water

Permeate water

Raw water

2017

11.0

75

25

75.0

18.5

1942

99.1

1st pass system

No chemical cleaning

2018

11.2

75

23

76.5

20.0

1895

99.1

2019

11.5

74

24

75.5

18.0

1852

99.0

2020

12.0

73

24

75.2

20.0

1922

98.9

2017

10.5

43

42

50.0

51.2

4780

98.9

concentrated water Treatment System

Cleaning frequency

Once a year

2018

10.7

45

43

51.0

50.8

4685

98.5

2019

11.0

42

40

51.2

66.5

5126

98.7

2020

11.2

42

41

50.6

67.4

5189

98.6
从上表运行数据可得,经过近三年的连续运行,一级与浓水处理系
From the operating data in the above table, after nearly 3 years of running,the salt permeability of the 1st pass and concentrated water treatment system still maintained at a low level, and the average annual salt permeability decay rate is less than 7%;
the average annual decay rate of permeate flow is about 3.5%, which is far lower than the conventional standard.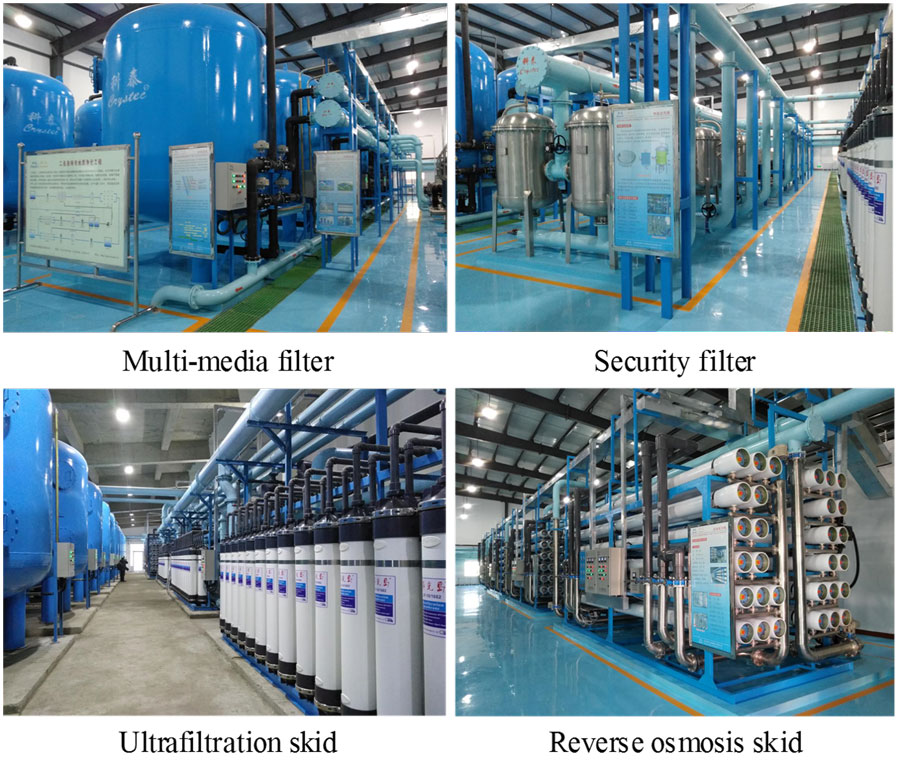 Figure 2. Field device diagram
Multi-media filter Security filter
Ultrafiltration skid Reverse osmosis skid
Summary
The total investment of the project is about 80 million, and the daily water treatment capacity is 30,000 tons. The core filter skids all adopted Keensen "BW-8040FR" fouling resistant reverse osmosis membrane elements, which fully realizes the products localization of this unit.
After 3 years of running, Keensen membranes have demonstrated excellent stability and have been highly recognized by customers.
KeenSen is not satisfied with current achievements,will keep going and create more value for partners with constantly innovative products and satisfactory services.